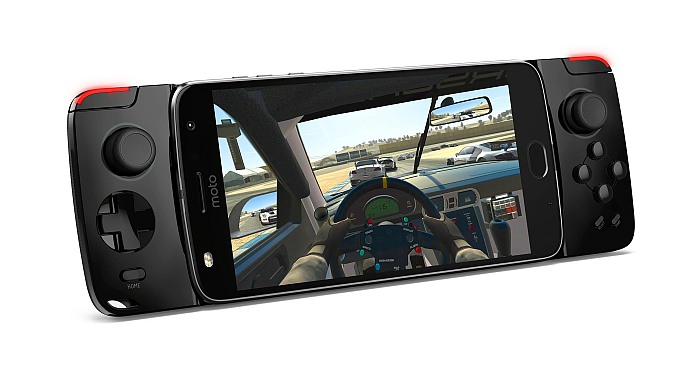 Lenovo brand Moto has declared that the release of the 3 new Moto Mods for its flagship Moto Z range in India. The new Moto Mods consist of the JBL SoundBoost 2 Mod for the audio, the TurboPower Pack battery mod for the charging on the go, and the GamePad Mod for the handheld gaming.
The price is set at Rs. 6, 999. The JBL SoundBoost 2 Mod succeeds the last released the JBL SoundBoost Mod. The Moto claims that it has 10-hour battery life as well as the water-repellent coating on the mod. This is in Blue, Red, and Black color variants. It has a fabric-coated back for the better grip. It also features a built-in kickstand. The JBL SoundBoost 2 Moto Mod provides a hands-free experience. The My JBL SoundBoost 2 app would also be available for managing the audio settings.
The second Moto Mod is a GamePad Mod. It also snaps to the back of a Moto Z-Series phone. It provides the handheld gaming experience. The Moto Game Explorer app comes with the first-time installation. It offers you a list of the compatible games on the Google Play. Once you install a game and then it automatically gives the functionality to the gamepad that has the dual control sticks, 4 action buttons, and a D-Pad. The GamePad Moto Mod is priced at Rs. 6, 999 and it comes with a built-in 1035 mAh battery.
Lastly, the previous Moto Mod that came to India is the Moto TurboPower Pack Mod. It features a 3500mAh battery for your charging needs on the go. It also snaps onto the Moto Z phone, same like the other mods. It is also claimed to provide up to 7 hours of the battery life within 15 minutes of the charging that is made possible with the quite fast charging 15W output. This Mod is charged at Rs. 5, 999.
All 3 Moto Mods would be compatible with Moto Z, the Moto Z2 Force Edition, Moto Z Play, Moto Z Force Droid, and Moto Z2 Play. The Mods would be available online through Flipkart and offline through Moto Hubs and other Moto retail partners.
Sudhin Mathur is the Managing Director at Motorola Mobility India. He said, "We are going to exit 2017 to uphold the commitment to make a great mobile future with a promise of the limitless possibilities, via new mods."